Discover The Best Collagen Supplements For Sagging Skin, Wrinkles & Fine Lines
Wrinkles and sagging skin . . . . they're an inevitable part of life. But, that doesn't mean you have to like them. You no longer have to accept that wrinkles are natural and they make you look older than you are. Who really wants that?
Fortunately, there are two methods in which to tackle wrinkles and saggy skin: surgical and non-surgical.
In this post, we will discuss a non-surgical, non-invasive method to addressing this pervasive problem to help you fight any problem areas with the best collagen supplements for sagging skin, wrinkles, or fine lines.
Causes of Skin to Wrinkle And Sag
As we age, our body's natural ability to produce collagen begins to decline. Our skin elasticity and firmness decreases as a result of a decline in our body's collagen production, which leads to a breakdown in the structures of the connective tissues beneath the skin that provide support.
This is what leads to wrinkles and sagging skin, as well as the skin's diminished ability to heal quickly.
In fact, with each passing year, starting around 25 years old, your body's ability to replenish collagen naturally begins to decrease by about 1.0% - 1.5% per year. (see image below)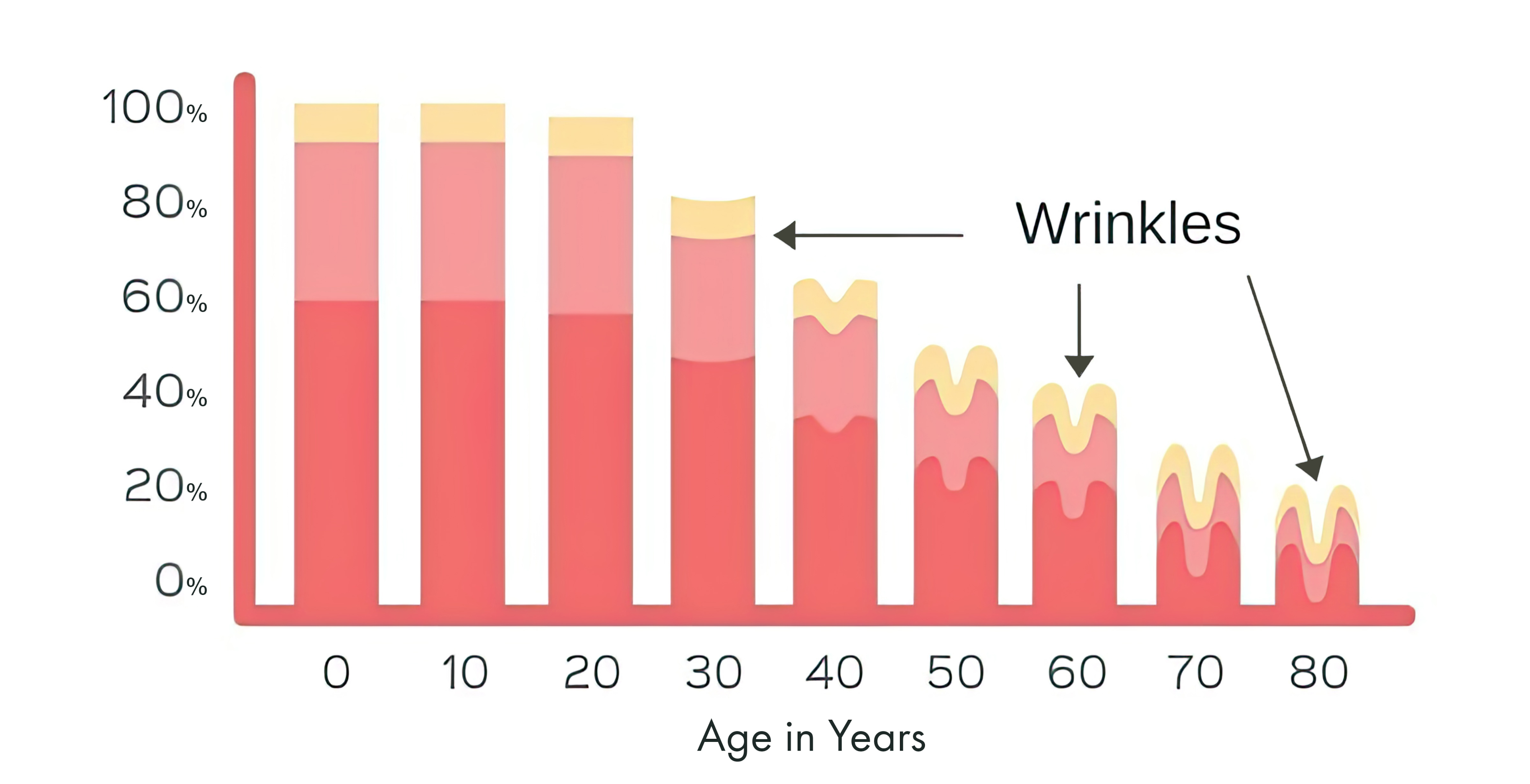 By the time you turn 40 years old, you will have already lost about 15% of your body's collagen. This number increases to 30% by the time you turn 50 and 45% when you reach 60.
By the time you are in your 70s, you will have lost up to at least 65% of your collagen production. These numbers will vary slightly depending on your lifestyle and genetic factors.
The good news is . . . . you CAN do something about those wrinkles, fine lines & sagging skin.
Even if you haven't yet noticed the signs of skin aging, with the proper care and attention, you have a great opportunity of staving off any noticeable sag & wrinkles well past your 50's. The catch is to get ahead of it before it begins to be visible.
If you need a better understanding of exactly what collagen is, skip over to the section "What is Collagen?
If you already know what it is, continue reading to learn how you can get back that youthful appearance.
How To Combat The Decline in Collagen Production
Fortunately, there are ways to help combat this gradual decline of collagen production that comes with aging and it involves consuming more collagen peptides every day.
Of course, you can "try" to consume more collagen through your diet, but it's extremely difficult to get the amounts needed to support your body's own collagen production through diet alone.
One of the more popular and effective ways to combat the effects of this gradual decline of collagen production is to take collagen supplements that will work to reduce the appearance of wrinkles, fine lines and sagging, while improving the overall look and health of your skin.
Popularity of Collagen Supplements
Taking collagen supplements is becoming increasingly popular with people of all ages as a way to support sagging skin and slow down the signs of aging with a goal of making them look younger.
As of the end of 2021, the global collagen supplements market size was valued at nearly USD 2 billion. In fact, this market has grown exponentially in the past few years, with an expected expansion at a compound annual growth rate (CAGR) of over 5 1/2% from 2022 to year 2028.
This strong growth has largely been driven by increasing awareness of the many health benefits associated with taking these vital proteins in the form of collagen, including healthy skin, better joint health, and improved digestion, to name a few. There is even research-backed evidence to prove its effectiveness.
Research Showing Effectiveness of Collagen Supplements for Loose Skin
There are numerous scientific-based evidenced studies which suggests that the oral intake of collagen supplements can address the effects of skin aging by improving the skin's elasticity, hydration and moisture.
There have been fewer studies assessing topical collagen's effect on aging skin compared to that of it's oral counterpart.
However, many studies suggest combining both the oral and topical forms concurrently showed greater improvement in skin elasticity, moisture and thickness of the dermis.
What's more, these collagen peptides also diminished the wrinkles and roughness of the skin without any adverse outcomes from either the oral or topical supplements as discovered in numerous studies.
The key to obtaining significant anti-aging benefits lies in the selection of a quality collagen supplement product. That's where this post comes in. We will help you to make an informed decision.
Before we get into the 5 best supplements for sagging skin, let's discuss what you should look for in a quality collagen supplement.
Ingredients to Look for in A Collagen Supplement
When selecting a collagen peptides supplement, there are a few key factors to consider.
1. Source: be sure to check the purity of the collagen supplement you're considering. The collagen should be made from grass-fed, farm raised bovine and/or chicken collagen that are hormone-free sources and free of additives or preservatives. If it contains marine collagen, make sure it states they are from wild caught fish.
2. Bioavailable: make sure to determine the collagen's bioavailability by looking for the word "hydrolyzed" collagen peptides that can easily be absorbed into the body. Hydrolyzed collagen is collagen that has already been broken down into a more digestible form.
3. Dosage: look for a collagen supplement with a high collagen density – typically, those containing higher collagen per dose, at least 5 grams, making them a more cost-effective choice.
4. Types: make sure the supplement you choose contains Type I, II, & III collagen. These collagen types are important for providing support for the following:
5. Contains Complimenting Ingredients: if you're looking for a collagen supplement to help with anti-aging of the skin, look for collagen products that have been fortified with vitamins and minerals such as Vitamin C and Vitamin E, as well as hyaluronic acid to help improve your skin's hydration.
6. Trustworthy: most important is to make certain they have tons of favorable reviews or testimonials from satisfied customers.
When selecting a collagen peptides supplement, it is important to make sure you're getting a quality product that provides enough of these vital proteins, in addition to meeting your specific needs.
Doing your research and being mindful of the key factors mentioned above will help you make the best collagen supplement choice for your individual needs.
Ready to get into our hand picked collagen supplements for sagging skin?

5 Best Collagen Supplements For Sagging Skin, Wrinkles & Fine Lines
We, at Evoque Dermatology, understand that having smooth, healthy skin on the face, neck and chest is a priority for many individuals. That is why we have spent countless hours researching and testing various supplement products that offer high quality collagen for sagging skin, wrinkles and fine lines.
We looked at brand reputation, quality testing results, and effectiveness of the ingredients they contain in order to determine the products that we feel provide the best collagen for sagging skin.
Through our extensive research, we've put together this list of the top 5 "MD-approved" best supplements containing collagen for sagging skin, wrinkles and fine lines that can help give you back your youthful appearance. They are:
Now, let's dive into each of these a bit more: